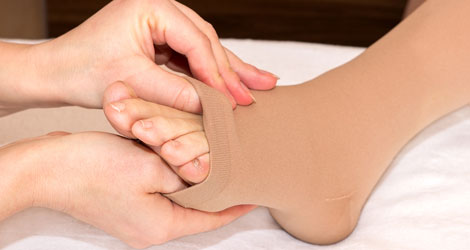 Green Lane Physiotherapy & Wellness provides the right massage therapy and compression stockings. Our brand meets the therapy and aesthetic needs of consumers. We have a wide range of medical compression stockings to treat venous & lymphatic diseases.
Our products are designed keeping in mind the patient and therapist needs and transcriptions. Patients and individuals with a problem of blood clots or varicose veins in the legs wear compression stockings to improve the blood flow in their legs. Compression stockings gently squeeze your legs to move the blood up to each and every vein. This prevents leg swelling and, to a lesser extent, blood clots.
Types of Compression Stockings
---
Talk to your provider about what kind of compression stockings are right for you. They are available in different pressures, lengths, and colors. Wearing stockings helps with:
Aches and heavy feeling
Swelling in legs
Preventing blood clots
Treating varicose veins
Who benefits from wearing compression stockings?
---
Anyone can feel better while wearing gradient compression stockings, especially those who spend too much time in sedentary sitting or standing positions. Gradient compression stockings are of most benefit to individuals with the following leg complaints:
Tired, aching, heavy feeling legs
Leg swelling
Varicose veins
Venous insufficiency
Post-thrombotic syndrome
Healed venous ulcer
Active venous ulcer
Lymphedema
It is recommended that you consult with your physician before wearing compression 20mm Hg and above. If you also have arterial circulation problems in your legs, please consult with our physicians at Green Lane Physiotherapy & Wellness.
Treat Your Varicose Veins & Blood Clots With Compression Stockings.