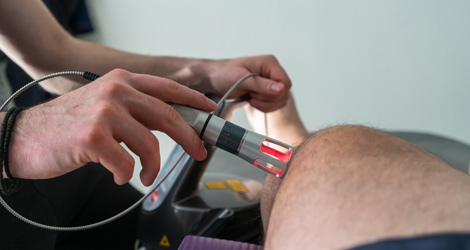 Class IV laser therapy is a highly powered, non-invasive and effective therapeutic laser therapy which aims to relieve the ongoing body pain by administering non-damaging infrared microwaves. When the laser is applied over the body, it penetrates deep into the body tissues and improves the tissue lymphatic drainage with a biomedical response.
The laser waves basically act on the body cells and the mitochondria. This increases the production of a chemical called ATP that speeds up the body's cellular activity. In other words, laser therapy is a non-invasive technique that helps in reducing the pain and inflammation.
Ailments & Conditions Treated
Laser therapy stimulates the repair and growth of tissues along with accelerating the healing process. Some common conditions treated with laser therapy include:
Tendonitis
Bursitis
Soft tissue injuries
Soft tissue injuries
Muscle strains
Muscle tears
Sore muscles
Painful joints
Degenerative joints
Neurological pain
Sciatica
Musculoskeletal disorder
What We Offer?
At Green Lane Physiotherapy & Wellness, we have a team of registered therapists who offer safe & reliable Class IV Laser Therapy to ailing patients in East Gwillimbury. We strive to relief your ongoing chronic or acute pain and enhance the tissue repair with non-invasive laser therapy.
We diagnose your current condition and start the therapy depending on the severity of problem you are facing. Generally, a laser therapy lasts between 5 -10 minutes depending on the condition being treated. The treatment is administered directly into the skin, as its difficult for laser light to penetrate through the clothes. Patients can experience the treatment results after 3 to 5 visits.
Visit Us To Schedule A Laser Therapy Session!