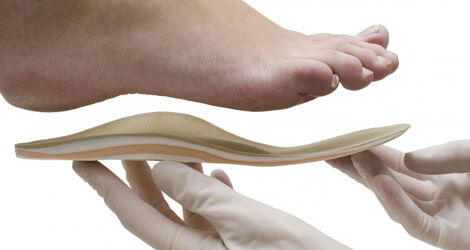 Do you know your feet directly impacts rest of your body parts like joints, neck and back? This makes orthotics a really important field of study. Green Lane Physiotherapy & Wellness recommends you to care for your feet properly and stop using ill-fitting shoes.
Custom Orthotics represent an important element to promote healthy aging, rehabilitation and recovering from an injury. We provide the right custom orthotics for patients. A custom designed orthotics solution will provide the support your feet require to relieve pain, and correct foot and bone irregularities caused by poor foot bio-mechanics.
Prior to fitting, our Chiropodist will assess the biomechanics currently at work in your feet. This is because your biomechanics have an affect on everything you do – running, walking, taking the stairs, and even standing. When your feet aren't operating at their best, your knees, hips, joints, and your entire body is at risk of injury and even chronic pain.
Once you've had a chance to settle into your new Orthotics, we will check back in to make sure you're wearing them properly, but more importantly that you're seeing results.
Custom-Made Orthotics
---
Green Lane Physiotherapy & Wellness is equipped with the tools we need to create custom orthotics. Properly fitted orthotics are one of the tools we use to treat musculoskeletal abnormalities and discomfort.
If you are facing foot problems or feeling pain in your ankle, knees or hip joints, call us to schedule an appointment.